Private Provider Inspections
Reliable & Responsive
Is your time valuable? Have inspectors who call you with solutions instead of leaving you with problems.
Private Provider Inspections
Here's What Building Better Looks Like
What if you could finish your new construction 30% faster?
You'll benefit from the ease of our team handling the entire process, from county paperwork to scheduling inspections, and closing permits.
Decrease Errors & Issues
We help in your permit auditing, double checking throughout the inspection process, and resulting.
Increase Efficiency
You're not required to be on-site. We will call you if there is an issue instead of failing you right away
Less Billing Hassle
With Trip Billing, you'll have unlimited inspections from NTBO to COC. Note: Per service location.

Did I Pass?
From hello to CO, we care that you pass. We understand that the complexities across jurisdictions cause confusion and job delays. That's why we double-check your documents and focus on moving things along.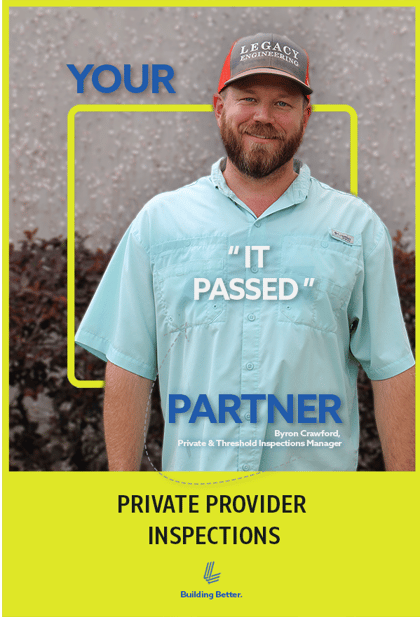 Common Questions & Answers
You have questions, we have answers!
What paperwork must I have to get started?
How long does it take to start my inspections?
Who will be my inspector?
How much do private inspections cost?