Geotechnical Engineering
We Can Handle It
Do you have tight deadlines and budgets? Let's form the proper foundation for your project needs.
We've Got You Covered
Geotech is a faction of your total project cost but drives incredible budget and time dynamics. What if you could be the buyer a seller selects first because you can meet shorter due-diligence timeframes? You'll benefit from the ease of our team handling the entire process, with excellent communication and recommendations better tailored to your project's needs.
Knowledge You Can Count On
With decades of knowledge held in our drilling database and senior engineers with experience to match, you don't need to expect surprises.
Reliable
You get an estimated completion date when you start a project, and we communicate with you every step of the way there.
Responsive
You have questions, we have answers. One of our Core Values is Client Dedication. We are here to serve you.

Can You Handle It?
The most common question I get for new Geotech Jobs is "Can we handle it?" Most of the time the answer is "yes". After answering this question over the course of the last ten years, I've found the following steps make a great foundation for nearly any project.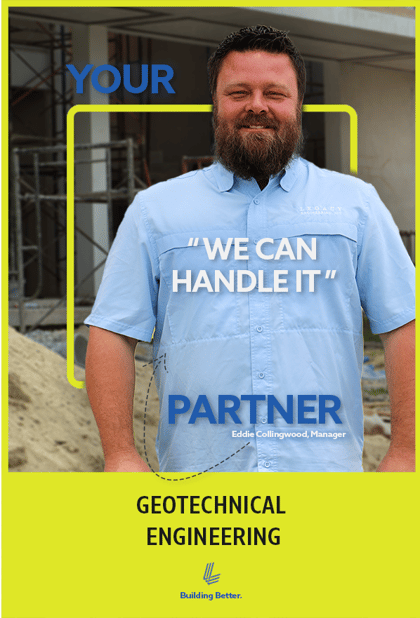 Preheader
Common Questions & Answers
You have questions, we have answers!
How long does it take to start drilling a job?
How long does my report take to come?
What types of drill rigs do you have?
What is your service area?